Wrap Bracelet/Necklace
---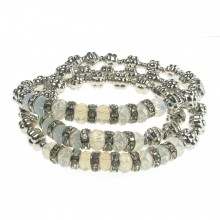 This item can be used as a necklace or wrapped around the wrist as a bracelet.
It comes in 4 colours each with 3 sections of silver and sparkly beads that match up around your wrist when you're wearing it as a bracelet. It stretches for ease of wearing.
Dimensions: L 52cms Approximate dimension of beads 0.5cms.
Continue Shopping